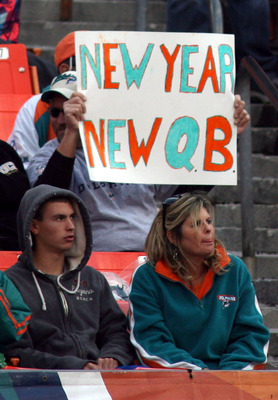 Image Courtesy of Bleacher Report
As the New Year approaches, I figured that the Miami Dolphins need to have some resolutions of their own for 2011.
The Dolphins aren't that far away from being a playoff team. It may be hard to believe because of their record this year, but Miami has a lot of talent that was masked by a few poor performers.
So, without further ado, here are the two most important New Year's Resolutions for the Miami Dolphins in 2011.
New QB
Goodbye Chad Henne.
At the beginning of this year the majority of Dolphins fans were expecting Henne to be the future of the Miami Dolphins franchise, and I was one of those fans. Instead, Henne has been really bad, and hasn't even been able to manage games this season.
Now, Miami must try and find a new quarterback for next season who is able to (at a minimum) manage games and (hopefully) make big plays consistently. There are a few prospects in the draft that the Dolphins might have a shot at getting like Ryan Mallett and Cam Newton, and that is where I would prefer them to look first.
It is also possible that they could look into the free agent pool. Players like Kevin Kolb and Kyle Orton may be available, and I think both of those players could be really good in the Dolphins offense.
It is extremely necessary for Miami to find a new quarterback because Chad Henne just isn't cutting it anymore. Instead of being the reason that his team wins like a quarterback is supposed to be, Henne has been the reason the Dolphins have been losing.
There have not been any indications out of Miami about what they will do about our quarterback, but we all need to pray that they don't decide to stay with Henne as the starter.
New OC
Goodbye Dan Henning.
Anyone who has followed the Miami Dolphins at all this season would have been able to guess that I would suggest they get rid of their Offensive Coordinator Dan Henning. His play calling was the stupidest and easiest to read in the NFL.
Miami's offense was so simple and pathetic that defenders were able to guess what routes receivers were running before the play even started. Dan Henning has just been bad all year, and it gets pretty old complaining about him, but I don't have a choice because he always seems to be part of the problem.
Possible replacements that have been revealed are Current Texans Head Coach Gary Kubiak and ex-Broncos Head Coach Josh McDaniels. Both could be very good choices for the job, but first Miami must fire Henning. There have been indications this week that Henning would be fired at the end of the season, so I am not worried about the fact that he will be here next year.
Thanks for reading, and let me know some of the other resolutions you think the Dolphins must fulfill to be successful next year.
People who are interested in all aspects of sports may be
interested in colleges
for sports management.