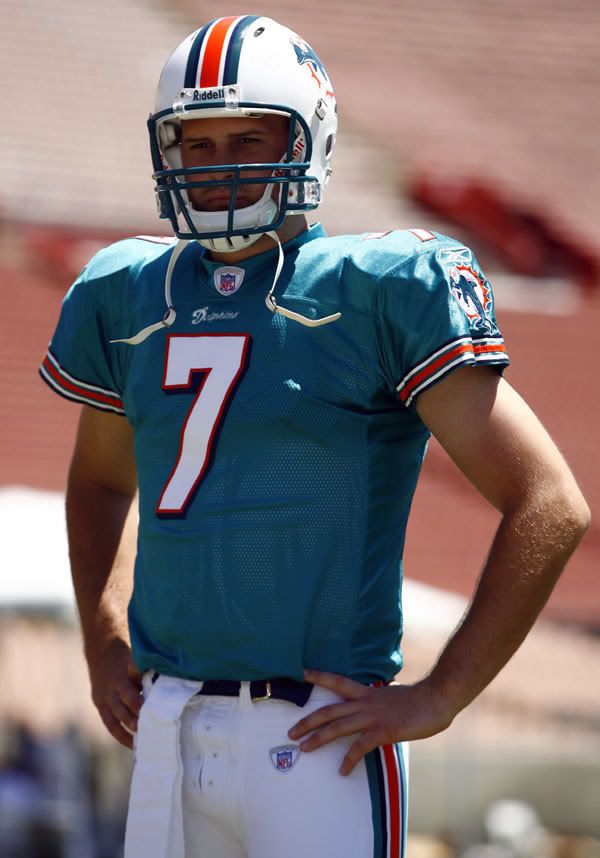 Henne Showed Promise On Sunday
Yesterday, we saw that Chad Henne was finally able to play the way we have been expecting him to play the entire season. He was able to throw the ball deep when he needed to, but the most important thing was that he didn't have to carry the entire team on his shoulders.
The Miami Dolphins running game was able to carry part of the load, and that was a huge help for Henne. There have been too many games this season where the Dolphins have relied completely on Henne's arm, and he isn't ready for that kind of responsibility yet.
He shouldn't have to have that kind of responsibility, either. Not many veteran quarterbacks can do well without help from their running game, so why would a young Chad Henne be able to do any better for the Miami Dolphins?
Miami's numbers running the ball actually weren't anything special. With the exception of a late 45 yard touchdown run when the game was already put away, the Dolphins numbers were a little pedestrian. Ronnie Brown and Ricky Williams gained 180 rushing yards together off of 44 carries. Those are pretty good numbers, but you would think they would have been able to gain more yardage with that many carries. If you take out the 45 yard run, they combined for 135 rushing yards on 43 carries. That is 3.1 yards per carry, which isn't very good.
What I am trying to say, though, is that maintaining a steady dose of the running game is important because it keeps defenses guessing. Keeping defenses guessing helps Chad Henne do better and throw fewer interceptions. Even though running the ball didn't move Miami down the field too well, it still kept the Raiders defense honest.
I liked what I saw in Henne against Oakland, too. He was able to keep his composure after throwing a bad interception and continue to drive the ball down the field later on. The crazy thing is that he didn't even have Brandon Marshall. He wasn't even playing with his best players, yet he was still able to throw the ball all over the field. He threw touchdown passes to Marlon Moore and Patrick Cobbs, who (I might add) aren't really considered playmakers in the NFL.
I'll be honest, I wasn't too confident about the Dolphins coming into this game, but Chad Henne showed me a lot on Sunday. He had good numbers, but the biggest improvement was the mentality he played with. He is playing with a lot more fire after being benched for Chad Pennington and then Tyler Thigpen.
Don't give up on him yet. I have a feeling that he is going to have a great career after watching that game.
Thanks for reading, and please leave a comment saying what you think about Henne.
Subscribe to DolphinShout