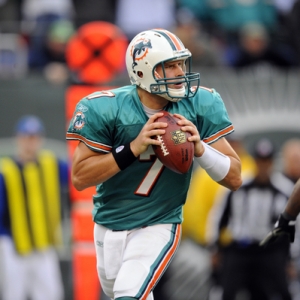 Goodbye Chad
I really thought I wouldn't have to say this for another 10-15 years, but I guess I was wrong:
The Miami Dolphins need to find a new starting quarterback to replace Chad Henne.
I would have wanted to announce the above after, say, Chad Henne announced his retirement after a long, Hall of Fame career with the Miami Dolphins. Maybe it would have been after a huge Super Bowl victory, and Henne would have held a teary press conference saying that he was hanging his jersey up for the last time.
That would have been the ideal situation, but it is not the real situation. Instead, it appears that Chad Henne is going to be benched for the final time in Miami because of poor, inconsistent play.
Nobody in Miami has officially said that they are looking for a new QB, but there is no way they can be willing to keep Chad Henne after his embarrassing performance against a mediocre Cleveland Browns defense. His inaccuracy was evident, and in one game he turned me from being one of his biggest supporters into one of his biggest doubters. I have constantly supported Henne this year through his ups and downs, but I just can't do it anymore. He's showed hardly any signs of improvement, and it is getting old watching him throw interception after interception.
I really thought that he would be able to develop his accuracy and passing skills this year, which is why I was able to stay patient with him, but he has seemed to have only gotten worse. He has size and arm strength like some of the best quarterbacks in the NFL, but his accuracy has to be among the worst in the NFL, and he makes way too many mental errors.
So much for Chad Henne going "down as the greatest quarterback in Miami Dolphins history." Sorry Stephen Ross, but he isn't going to be anywhere near Dan Marino or any of the other Dolphin greats at quarterback. Instead, he is just another player added to the long list of failed quarterbacks the Dolphins have started since Dan Marino's retirement.
Now, Miami must begin looking for a new quarterback to, hopefully, lead the Dolphins to great things. Backup Tyler Thigpen may be able to do well, but I am not so sure about him. He showed flashes of greatness against the Titans three weeks ago, but I am not sure how good he is at throwing from the pocket anymore. He does play similar to Michael Vick in that he can run the ball well, but he doesn't pass nearly as well as Vick. Thigpen still has a pretty good arm, but I am not sure if it is good enough for the NFL or not.
If I were calling the shots in Miami I would put Thigpen in as the starter for the rest of the season. The season is already over, and now the Dolphins should just focus on finding out if Thigpen can start and play well in the NFL. He may very well be a great starter in the NFL. The Dolphins might as well try him out and see if he can be successful. If he can't, then they should start to look for somebody in the free agent market or the draft.
I don't know how likely it is that he will be available, but if Michael Vick is available the Dolphins must be willing to pay him whatever he wants to come play in Miami. I don't care if they pay him $50 million guaranteed as long as they get him in a Miami Dolphins jersey. Stephen Ross can cut Chad Henne so Vick can get his #7, and then sit back as Vick runs and throws the ball past every defense in the NFL.
There aren't many other free agent quarterbacks that would be worth getting, so the Dolphins would need to look to the draft if they can't get Vick. I don't know much about the incoming draft class and what quarterbacks would be available, but I guess I will be doing some research on that now.
I know that Cam Newton would be a good player to build the team around. He can run the ball really well, is very strong, and has a pretty good arm. The problem is that he is a junior, and I am not sure whether he will declare for the draft this year or not.
Andrew Luck of Stanford and Jake Locker of Washington will probably already be taken in the draft when the Dolphins have their pick, but Miami would probably have a shot at Ryan Mallett from Arkansas.
From what I can tell, though, Mallett is way too similar to Chad Henne. He is a big quarterback with a strong arm and average accuracy. I am going to do more research, but I am not so sure I want him starting under center in Miami next year.
We will see how everything plays out. I know you are all frustrated that Henne is done, and so am I, but we must start to look to the future. We still have an extremely talented team. We just need a quarterback to help this team accomplish what it is capable of.
Subscribe to DolphinShout