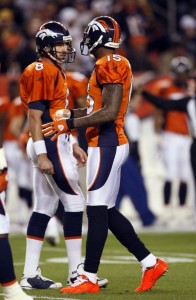 If the Miami Dolphins were to go after Kyle Orton and get him, how do you guys think he and Brandon Marshall would be together?
Brandon Marshall would definitely like a new quarterback for the Dolphins. Chad Henne didn't exactly help him much, and it is pretty obvious that he doesn't want Henne throwing the ball in Miami anymore. One potential replacement for Henne is Kyle Orton, who Marshall played with during the 2009-2010 season with the Denver Broncos.
In that season they played together Marshall had 101 receptions for 1120 yards and 10 touchdowns, and I am willing to bet anything that Marshall wants those types of numbers again.
Orton also had 336 completions for 3802 yards, 21 touchdowns, and 12 interceptions, which would be a dream for Dolphins fans compared to Henne's numbers last season.
Orton might take a 2nd or 3rd round pick to get, but he would be absolutely worth that. Just last year he completed 293 passes for 3653 yards, 20 touchdowns, and 9 interceptions after only 13 games. I believe the reason he was benched was that the Broncos were already out of the playoffs so they wanted to give Tim Tebow a chance at starting because they had already given up so much for him. I am not positive so I will confirm that with John, but I believe that was the case.
Either way, the Broncos loss can be our gain. I believe it would be absolutely worth getting a player that can put up the numbers that Orton can for only a second or third round pick. If they did trade a second rounder for him it will be pretty ironic because the Broncos have had Miami's second round pick for the past two drafts.
I believe that Orton is the best available quarterback. He still has at least five good years left in him, and he will be able to be very productive in that time. Pair that with his past success with Marshall, and he seems like the best option for Miami. Orton would be the piece that finally puts the Dolphins over the edge. I am confident that he would be the difference between a .500 team and a 10+ win team.
So, as of right now, my first choice as the starting quarterback for the Miami Dolphins is Kyle Orton. My second choice is Vince Young, and I would guess my third is Carson Palmer.
That's all I've got for now. Who is your first, second, and third choice for the Miami Dolphins? Let me know with a comment.
FYI, I saw an article on the
Sun Sentinel
that gave me the idea for this post, so I hope you guys enjoyed it. Like always if you have a question or suggestion please email me at paul@dolphinshout.com or mention me on twitter @PaulDSmythe.