So we've watched episode two of the Miami Dolphins on Hard Knocks.
Obviously, the big reason that a lot of people watched the show this week is to see what went down with Chad Johnson, and that was addressed. The HBO cameras showed Coach Joe Philbin and Johnson sitting down for a talk, and they showed Philbin letting him go. It was painful to watch, because you could tell how much Johnson wanted to stay on the Dolphins, but Philbin made the call because he felt it was better for the team and I respect him for that.
Here are some other notes from the show:
As expected, Hard Knocks also covered David Garrard's knee injury.
Garrard felt a "crunch" in his knee Thursday night at his house. The team ran their tests and decided to have him get arthroscopic surgery on the knee. As you guys know, the recovery time should be somewhere between 2 to 4 weeks.
One thing that bugged me about the first episode of Hard Knocks was that they didn't really show how the quarterback battle was really going. Thankfully, they credited Garrard with being the best quarterback in episode two. Too bad they addressed it right before they talked about his injury.
Hard Knocks is really focusing on Brown.
They do love their storylines, which I don't blame them for, but it seems to me like Hard Knocks is focusing a little bit too much on the accountant-turned-TE Les Brown. I don't know how interested people will be with Brown. If I was them and I was looking to enhance the storyline I would try and emphasize the part where he was a former accountant. People who don't follow the Dolphins closely aren't going to remember him as the accountant, and it will make them more intrigued to see an accountant battling for a spot rather than just another guy battling.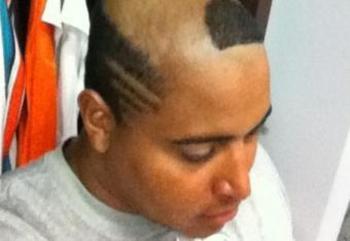 The haircut segment was hilarious.
In this episode we got to see a lot of the different haircuts that the rookies had. We got to see all different styles of hilarious haircuts ranging from shaved eyebrows to a penis shaved onto G Josh Samuda's head. Anyone watching definitely got a laugh out of that segment, even if they didn't like football.
The future sang us all a little tune.
Ryan Tannehill sang "Lean on Me" during a team meeting. Obviously Miami didn't want the face of the franchise to have genitalia shaved onto his head, so instead Tannehill had to do a little singing for the world. He wasn't a good singer, but in his credit I have heard worse.
How about Roberto Wallace and Chris Hogan?
Hard Knocks took a look at both Roberto Wallace and Chris Hogan. They really emphasized that Wallace has been struggling to get separation. I really don't think it's as bad as they've made it out to be, but he does struggle at times separating. The show made undrafted rookie Chris Hogan look great. Hogan isn't especially fast or strong. He has just had a knack for getting open, and people on the team are noticing. Reggie Bush calls him 7-11 because he's always open.
We got to see a fight between the offensive line and defensive line.
Bet you can't guess who the instigator of the fight was. None other than Richie Incognito. It started as a little shoving between two guys, but Incognito elevated it by pushing a lot harder than the initial shoves. Next thing you know, there are 10-15 guys crowded around either pushing and shoving or trying to break the fight up. Fun stuff.
Thanks for stopping by. Hopefully HBO will post this week's episode of Hard Knocks so I can share it with you guys.
Email me at paul@dolphinshout.com. I'm on twitter
@PaulDSmythe
.
Tweet