I have been on a writing hiatus for two months now (62 days), and I would like to apologize. A lot has happened since my last piece in the football world and I haven't been around much to discuss it. 62 days is a long stretch without writing anything, and it has to be a personal record for me (definitely not a good thing).

I started Dolphin Shout in 2010 with the goal of writing something new every day, and while I don't have to write nearly as often as I did when the Shout was in its infancy I still need to write more than once every two months. I'm very proud of this site and I don't want anyone to attribute my lack of work to indifference towards Dolphin Shout, because that is not the case. As long as the internet exists Dolphin Shout will too.
You guys deserve content and I haven't been delivering. Let this piece be my offering to you, the reader and lifeblood of this wonderful community. I know I say this too much, but without you guys we wouldn't be here. Your discussion drives us to keep going.

I cannot tell you how difficult it was when I first started this site. I would write each day knowing almost no one was reading and knowing for sure nobody would leave a comment or feedback. It's obviously very different for us today, but the first comment was quite exciting. Check it out. You can see the old commenting system and everything.

Riverdog was the very first member and commenter at Dolphin Shout, and that's proof. For a while the Shout doubled as a message board for Gary (Riverdog) and me. It's highly likely Dolphin Shout wouldn't exist if Gary didn't start commenting. I don't think I could have kept it up much longer without some actual human interaction.

And since I'm reminiscing, take a look at the old logo I made for Dolphin Shout. Anyone remember this?

What an ugly logo. I'm surprised anyone would come back after seeing that. I guess we made it through, though.

We have come a long way since then. We've been right. We've been wrong. Opinions have changed. Opinions have fortified. Discussions have started. Arguments have arisen. Friendships have begun. Emotions have run high. Cups have been broken. Players have come and gone. Coaches have come and gone. So much has happened, but one thing remains the same:

The People.

When it's all said and done what matters most is the people we've met along the way. I believe that. There will be Dolphin victories and accomplishments we savor, but in the end what really matters is the friends we've made.

This is such an excellent community we have. Here's to 100 more years and then a couple extra for good measure.
That ends my abnormally long introduction, but that's what happens when I've been gone for so long. I really enjoyed seeing where we used to be and how much we've grown since then.
What I've got for you now is my 2013 Miami Dolphins Manifesto. Training camp has begun and it is time to get back to football. We are 10 days away from the Hall of Fame Game between the Dolphins and Cowboys, and this seems like the perfect time to discuss what we have as a team going into the season.
I am going to do a breakdown of my expected starting units for both offense and defense. Most of the starting lineup is pretty much set in stone, but there are a few positions that could be considered questionable.
Let's dive right in.
The Dolphins offense struggled to put up points last year for a couple of reasons: inexperienced rookie quarterback and a lack of weapons for that quarterback. This offseason things are looking a lot brighter in Miami and it's going to be an exciting season in South Florida.
Ryan Tannehill, QB
He's the franchise. The success of the Miami Dolphins rides on his shoulders. Everything Miami did this offseason is meaningless if Tannehill doesn't continue to improve and develop. The second year quarterback has a lot riding on his performance, but I believe in him. What I saw last year was enough for me. His composure under pressure was beyond impressive, and I believe he has all the necessary skills to be Miami's long coveted franchise quarterback. He now has the necessary tools at his fingertips. The ball is in his court now.
Two notable quarterbacks on the Dolphins roster are Matt Moore and Pat Devlin. Moore serves as an excellent backup and Devlin has been really impressive during his time with the Dolphins. Who knows? Maybe Miami could trade him in a situation similar to what the Eagles did with Kevin Kolb.

Jonathan Martin, LT
Martin is the biggest question mark on the Miami Dolphins offensive line. He played right tackle for most of last season before moving to the left side to replace the injured Jake Long. He struggled on the left side, and a big reason for that was his strength. Martin wasn't quite as strong as you would like your left tackle. He has been improving on that, though, and is 15 pounds heavier this season. His strength should be much improved and he should be able to hold his own.

Dallas Thomas, LG (rookie)
Miami drafted Thomas in the third round of this year's draft. The Dolphins want him to play on the left side, which is why I think he starts at Richie Incognito's old position. Thomas is a versatile lineman who can play tackle and guard, but he is considered a better guard than he is tackle. He is a little light (sound familiar), but his quickness should be an asset. Expect Miami to work on bulking him up. It will be interesting to see how a left side with only one year of NFL experience does, but I think they are both good enough to protect Tannehill's backside.
Mike Pouncey, C
Pouncey was disrespected last season during the Pro Bowl voting and was not selected to go to Hawaii despite being one of the best centers in the NFL. The Dolphins lack of success had to play a role in the voting, as most fans don't know much about the NFL's best centers. Pouncey should continue to anchor the offensive line this year.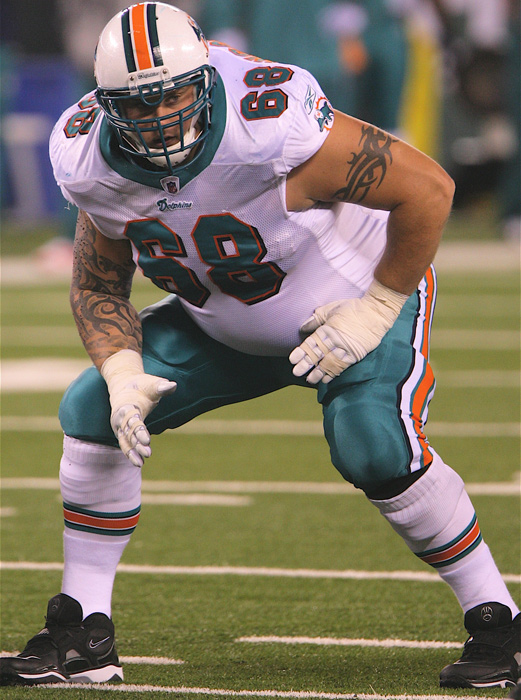 Richie Incognito, RG
Richie is a player you love to have on your team and hate to play against. He can be a lot of fun with his teammates but also quite mean against opposing players. Incognito is an above average guard who should be safe to start his season. I predicted this in my offensive line post two months ago, but I expect the Dolphins to move him to the right guard position to allow for rookie Dallas Thomas to play left guard. I do not see this as a demotion for Richie. It just see it as a way to keep him on the field and still allow Thomas to join the lineup.

Tyson Clabo, RT
Clabo signed a one-year deal with the Dolphins following the NFL Draft. He is a very solid offensive lineman who can be counted on for consistent production. My rule of thumb for offensive linemen is if you don't hear about them then they are probably doing their job, and I don't expect to hear much about Clabo this year.
For this section I am assuming a base offense of three wide receivers, one tight end, and one running back. This is the offense that I believe we will see the most of this season. I'm not sure if it will be the starting lineup, though.
Mike Wallace, WR
Wallace hasn't been impressive in camp so far? That's nice. One question. So what? We are a few days into training camp. Any reaction right now is a knee-jerk one. Wallace was given a huge contract this offseason, and many people thought the Dolphins paid too much for him. Nevertheless, he will add an extra dimension to Miami's offense they severely lacked last year. The Dolphins are better with him on the roster.
Brian Hartline, WR
Hartline established a strong rapport with the rookie Tannehill last year, and he was rewarded with his first career 1,000 yard season. Hartline should benefit as the number two receiver on the Dolphins, and hopefully he will score more touchdowns this season than his one touchdown last year.
Brandon Gibson, WR
The Gibson signing surprised me a little bit, but apparently Miami was impressed by his seven catch, 91-yard performance against them last year. Gibson will be the Dolphins slot receiver, replacing the Davone Bess who was traded to Cleveland. Gibson makes for an exciting third receiver and should fit nicely in Miami.
Dustin Keller, TE
The Dolphins signed Jets tight end Dustin Keller to a one-year deal this offseason after Anthony Fasano (a personal favorite of mine) signed with the Chiefs. As much as I hate to see Fasano go, I am still very excited to see what Keller will be able to do for Miami. He is a very good pass-catching tight end who should make a positive impact receiving the ball.
Lamar Miller, RB
Miami drafted Lamar Miller in the fourth round of the draft last year, and it looks like he turned out to be an excellent pick. Miller will be replacing Reggie Bush and taking over the starting running back job. The Dolphins are very excited by what they see in Miller, and I have to agree with them. Miller is a home-run threat with the ball in his hands. If he can work on blocking then he could be one of the better backs in the NFL.
Some other notable playmakers are running back Daniel Thomas, tight ends Charles Clay and Dion Sims, and kick returner/running back Marcus Thigpen. Thomas is doing everything in his power to give Miller a run for the starting running back spot, Clay and Sims should see some time at tight end, and Thigpen should continue to excel returning kicks and punts.
Now we're going to move on to the defensive side of the ball, where Miami should truly dominate.
There is little doubt in my mind that the Dolphins are among the best defenses in the NFL. There are some new faces on the starting unit, but the new guys should fit in just fine with what Miami is trying to do. I am assuming a 4-3 base defense for the purposes of this article, although we know defensive coordinator Kevin Coyle likes to mix it up a lot. First, a look at the defensive line:


Cameron Wake, DE
Wake is probably the best player on the entire Miami Dolphins. Dolphin defensive coordinator Kevin Coyle made headlines by saying he wouldn't trade Wake for any player in the NFL, and it isn't hard to see why. He is a dominating pass rusher who racks up both sacks and holding penalties. Want more proof? Check out
this article
.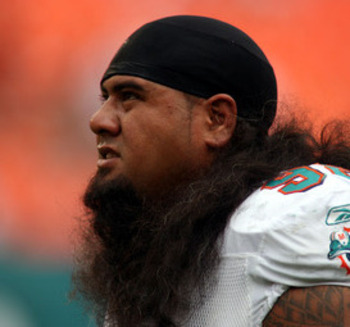 Paul Soliai, DT
Big Paul Soliai is an anchor on the defensive line for Miami. He and Randy Starks give the Dolphins an interior most teams in the NFL would kill for. Soliai is due for a new contract next offseason. He won't register many sacks because of his job description, but rest assured. He makes a huge impact disrupting opposing offenses.
Randy Starks, DT
Starks is the other Pro Bowler from the Dolphins defensive line. He got some well-deserved respect by being named a starter in Hawaii. Starks was given the franchise tag this offseason, so like Soliai he will be a free agent next offseason. He definitely puts up better statistics than Soliai, which can be misleading, but he is generally considered one of the best defensive tackles in the league.
Dion Jordan, DE (rookie)
Miami traded up to the third overall pick in the draft to select the best defensive player in the 2013 rookie class: Dion Jordan. Jordan is a versatile pass rusher with elite athleticism whose presence makes the Dolphins defensive line even scarier. He has been compared to Jason Taylor, so he definitely has high expectations coming into South Florida.
I would also like to note Jared Odrick and Olivier Vernon. Odrick will be used quite frequently as a tackle with Soliai and Starks. He was a first rounder for the Dolphins a few years ago and we could see him replacing one of the two current big men if they don't return next year. Vernon is a rookie pass rusher drafted last year who is looking good so far in camp. He should get some time backing up Wake and Jordan this year.
This is where things get interesting. Miami's two best linebackers from last year, Karlos Dansby and Kevin Burnett, are gone, replaced with younger and more aggressive defenders. Check it out:
Philip Wheeler, OLB
Wheeler is a guy Jeff Ireland tried to get last offseason before he signed with the Raiders. Fast forward to this year where Ireland made sure to get his guy while cutting Kevin Burnett in the process. Wheeler is one of the best pass-rushing outside linebackers in the NFL, and he should bring plenty of pressure to opposing quarterbacks this year.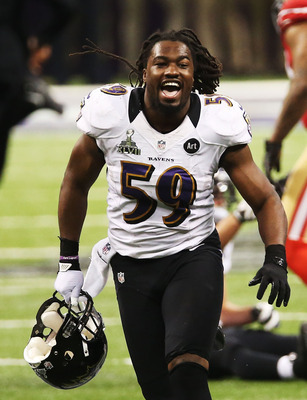 Dannell Ellerbe, MLB
Ellerbe is just coming off of a Super Bowl victory last season, so he knows what success is like. Miami made it known that they wanted him with a contract worth $35 million. Ellerbe, along with Wheeler, will give the Dolphins defense plenty of pressure on the quarterback. Ellerbe was the most productive pass rusher last year, according to
Pro Football Focus
. He was widely considered to be Ray Lewis' replacement before Miami swooped in and stole him.
Koa Misi, OLB
Misi was Miami's second round draft pick three years ago and has been a solid contributor for the Dolphins. He isn't the best in coverage as Miami usually kept him out on third downs, but his run defense is quite good. Misi is in the last year of his contract, so he needs to really step it up this year if he wants to earn a nice, fat contract. Expect more of the same this year with him out on third downs.
Miami's secondary also has a new look this season. Sean Smith left for a large contract in Kansas City, so Miami was tasked with finding a replacement for him. They did just that. Take a look:
Brent Grimes, CB
Grimes is Miami's replacement for Sean Smith, and I see him as an upgrade as well. He's a little older than Smith and has had more injury problems, but talent-wise he is better. He's also a tad undersized at 5'10", but he is a dominant cover man who can hold his own against anybody in the NFL. It's already evident Grimes is clearly the best cornerback on the Dolphins roster, and he should make a huge impact in the secondary this year.
Richard Marshall, CB
Marshall was brought in by the Dolphins last year and was starting before he injured his back Week 4 against Arizona. He should be 100% recovered from his injury now, so he is ready to jump back in. He and Grimes can pretty much be penned in as Miami's two starting corners going into the season. Marshall is a versatile cover man who should do well opposite Grimes.
Reshad Jones, FS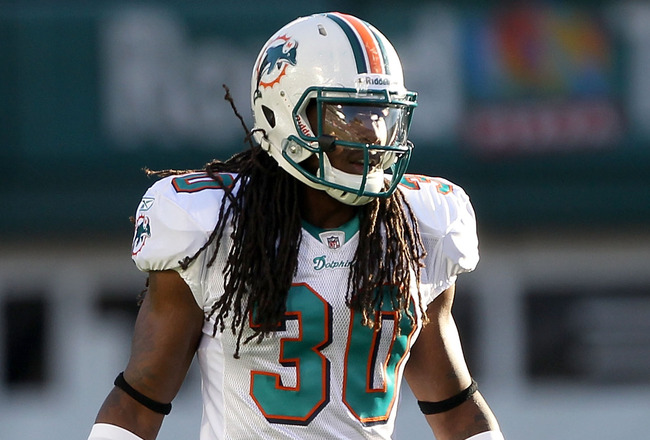 Jones is a Pro Bowl-caliber safety who was snubbed in the fan vote last year because of a lack of name recognition. Jones had an excellent year last year, and
Pro Football Focus
named it the fifth best single season performance by a safety in the last five years. Count on Jones to continue to perform at a top level in this, his contract year.
Chris Clemons, SS
Clemons is a very solid safety for the Dolphins. He started all 16 games last year and signed a cheap one year deal to remain with Miami for this season. Clemons is extremely consistent (
Pro Football Focus
counted only two coverage blunders by him all last season) and does well in both run and pass defense.
There are plenty of new faces on this year's team, but I love the direction the Miami Dolphins are heading. You will hear people say Miami spent way too much this offseason and that teams who build through free agency aren't successful, but you know what? The team is better now than it was at the end of last season, and that's all I care about.
Maybe Dolphins General Manager Jeff Ireland did spend a lot in free agency, but what was he supposed to do? Leave all that cap space just sitting around? Of course not. He had money to spend to improve his team, and that's exactly what he did. Did he pay too much for Mike Wallace? Probably a little, but Wallace will add an extra dimension to the offense and give it some much needed firepower.
Like I said above, though. Everything rides on Ryan Tannehill. All the improvements Miami made these past few months will mean nothing if Tannehill can't step up. People's jobs are riding on his shoulders. If Tannehill doesn't do well then you can pretty much guarantee Jeff Ireland is on his way out, and maybe even head coach Joe Philbin if the team does poorly enough.
I think Tannehill will be fine. He showed me enough in 16 games last year to make me confident he can be the answer to the quarterback question that has plagued the Dolphins for so long.
Because of my confidence in Tannehill, coach Philbin, and the Dolphins team as a whole this season I am predicting a
10-6
record and Miami's first playoff appearance since 2008. I believe Philbin and Tannehill can lead this team in the right direction.
I am normally a very optimistic person, but I am especially excited about this season. There are so many strong points to this group of players and not many weaknesses. Unless Tannehill crashes and burns I can't see this team doing any worse than 8-8.
The stars seem to be aligning as well. The Patriots are weaker than they've ever been after the loss of Aaron Hernandez, Wes Welker, and the poor health of Rob Gronkowski. If there was ever a time for Miami to take control of the division this would be the year. Let's hope it happens.
That does it for my 2013 manifesto. I'm really liking our chances this year. It sure seems like we have the potential to make some noise this season.
Thanks for stopping by. Email me at paul@dolphinshout.com. I'm also on twitter
@PaulDSmythe
.
Also, thank you to the newest addition to our crew, Mike Ferguson, for his wonderful '15 Most Important Players' Countdown. I have been thrilled with the list and am taking notes for ideas for my own countdowns. Please let me hear your feedback on that. I am extremely curious to see what everyone thinks about this list and the possibility of others.