I'm continuing my look at potential Miami Dolphins draft prospects today with Keenan Allen out of Cal.
Allen is a 6'3" 195 pound junior. He was the beneficiary of a lot of targets due to the fact that his half-brother, Zach Maynard, was the quarterback at Cal.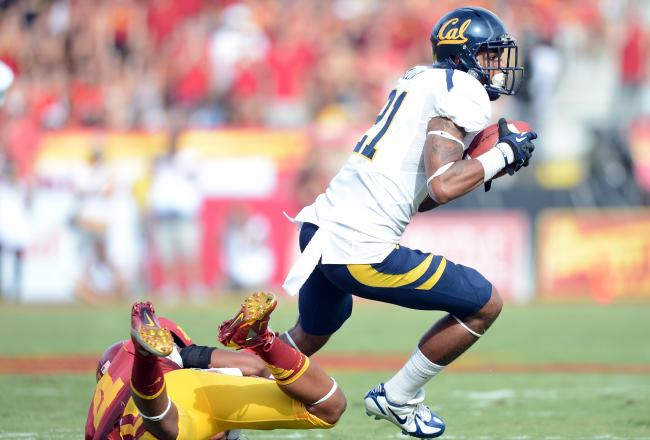 Allen is considered by more than a few to be the top receiver prospect in this year's class, which is pretty impressive considering how deep this class is. I don't personally view him as the best receiver, but I can see why he's up there.
Allen is an excellent route runner. He has pretty consistent hands. He is pretty fast and uses his speed well when running after the catch. He isn't as good as Cordarrelle Patterson with the ball in his hands, but he can still make things happen. I did notice that he seems to try and make cuts that are a little too tight, resulting in him slipping and the play being dead (college rules, of course).
He also has a really nice catch radius, which he displayed a little too often due to poor quarterback play by Maynard.
He doesn't have many negatives that I can see, which is probably why he is in the discussion for the best receiver in this class. Apparently he has had problems with drops, though I didn't notice anything too serious in the tape that I've watched.
To me, nothing about him really jumps out at you other than his excellent catch radius, but he is the complete package and could do really well at the next level. I do expect Cordarrelle Patterson to jump him as the consensus top receiver in this class as the draft approaches. Allen is an excellent receiver who can be counted on to make plays, but he isn't nearly as explosive as Patterson.
If I'm picking a receiver for my team I want the playmaker. Allen may be the better all around receiver, but Patterson will make more plays for you.
I think a little too much stock is being put into Allen's production. Sure, he was hampered by Maynard's spotty passing, but his production was also helped significantly by the sheer number of targets he received from his half-brother.
Here is some film on Allen from his sophomore year:
And from his senior year. You'll see what I mean by Maynard holding him back:
Thanks for stopping by. Email me at paul@dolphinshout.com. I'm on twitter
@PaulDSmythe
.